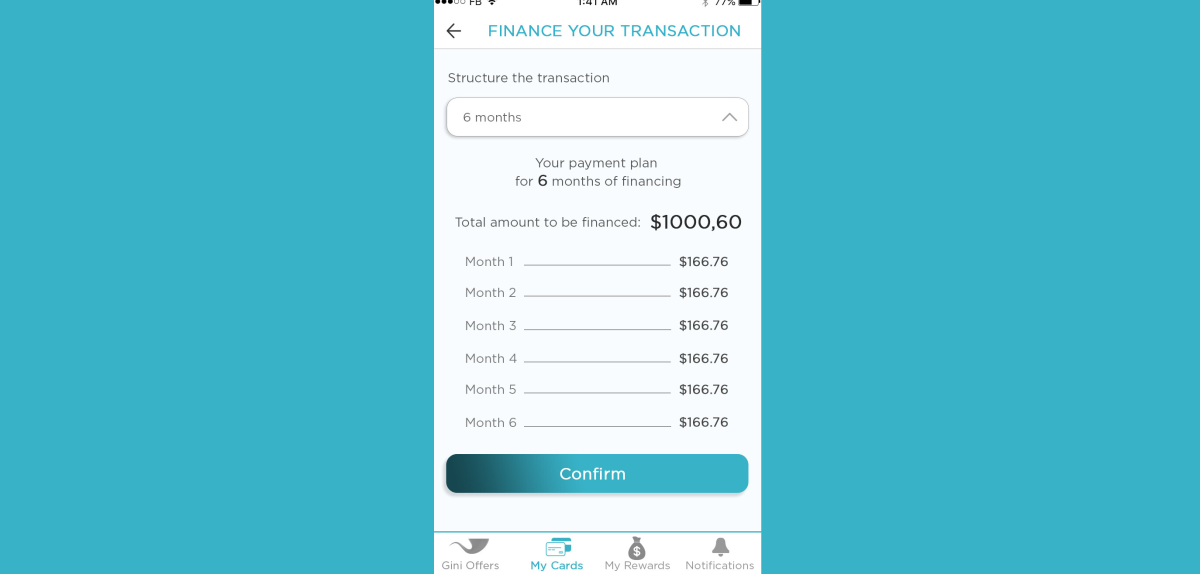 myGini Offers Fast and Friction-free Point of Sale Credit Implementation Service for Banks and Credit Unions
Quickly and easily installed own-brand app for banks and credit unions

Enables card issuers to provide short-term credit to cardholders via mobile devices

Service delivered over secure cloud infrastructure

Click here

for high-res images
March 13, 2019 – Today myGini Inc., the San Francisco-based fintech provider, has launched a revolutionary friction-free point of sale credit implementation service based on the myGini mobile app. For the first time, it allows banks and credit unions to quickly tap into the growing market for short-term point of sale loans by providing easy short-term credit to their cardholders via mobile devices.
 
Card issuing banks using the service can offer sophisticated, personalized and flexible short-term payment options to cardholders on specific purchases, based on a wide range of pre-set parameters. By leveraging the cloud-based myGini system infrastructure, banks and credit unions can roll out this new service quickly without costly customizations to existing software or the need to replace legacy IT equipment.

"When consumers choose a finance option, they want to know how much money it will cost, what they will be paying towards the purchase and get a clear timeline of when the plan finishes. This means they can budget and plan their finances – without worrying about their monthly cash flow," explains Mehmet Sezgin, Founder and CEO of myGini Inc.

"Some retailers and merchants have already taken note of the demand from their digitally native customers, and the new myGini POS implementation credit service is a logical extension of the installment payment functionality we launched at the end of last year. It enables card issuers to offer consumers attractive and flexible app-based installment options for purchases on credit cards based on card type, customer behavior, purchase thresholds or retailer type," he continued.
About myGini
Founded in 2016, myGini Inc. is headquartered in San Francisco and financed by a group of private investors. For more information about the company, please visit www.mygini.com.