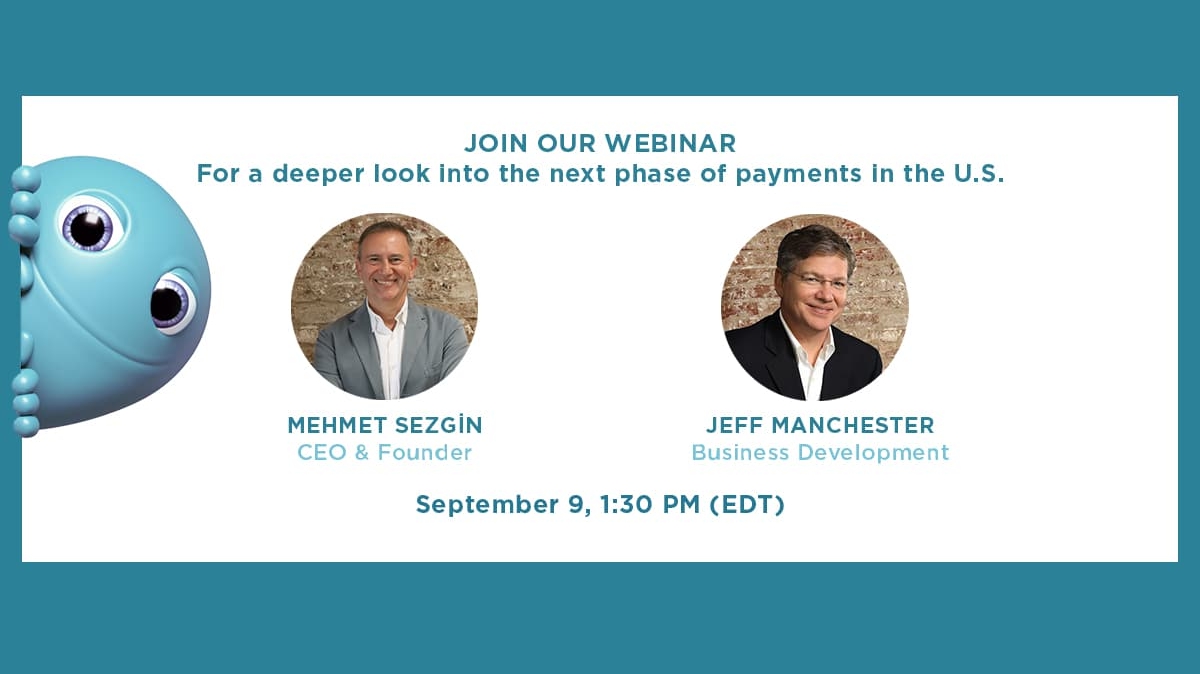 Highlights of myGini Webinar
September 9, 2020
Payments after COVID in the US
What Will Happen, How will you be impacted?
Mehmet Sezgin                           Jeff Manchester
Founder and CEO             Business Development
The status of contactless/mobile and EMV payments in the US
Arguably the worst EMV migration in the world; lack of PIN (the US is the only country to have chip and signature) and contactless functionality, lack of many other common specs that could've improved point of sale experience and provided more speed,
Restaurants and gas stations still not EMV compliant,
Banks lacking a mobile-first approach,
iPhone NFC functionality not reachable by any other payment app (including banks') but ApplePay only (Coincidently Apple Pay was launched 6 years ago on this day)
Another barrier: Restaurants, not only lack of EMV but lack of mobile POS terminals
And one more hassle: A unified Point of Sale experience: Asking if the card is debit or credit (forcing the c/h to touch the terminal and lack of standard contactless transaction limits (which exists every other country) …Too much fragmentation
What can happen?
Scenario 1: EMVCO getting serious and realizing and mandating common specs: Not likely even during COVID we have not heard from them,
Scenario 2: Apple unlocking its NFC antenna to banks and other payment providers. Not likely unless there is a legal battle as Apple makes money on each payment transaction from banks.
Scenario 3: A super payment app designed and offered by either a brand-new fintech firm or by an existing big tech that connects retailers and P2P payments using Venmo, PayPal, and Zelle bypassing debit cards and/or combining QR codes and/or using phones as contactless POS devices.
Scenario 3 is the most likely one as the only barrier is the business side of getting merchants.
In that scenario, PIN debit networks, debit card providers (V/MA), and POS terminal providers (Verifone, Ingenico, even Square) will be disrupted.
What can small and local retailers do now?
Work with marketing and tech companies like myGini to reach out to existing customers using existing platforms without investing in new software and hardware.
What is next for Credit cards?
Installment payments which we see in many countries will become mainstream. Banks can either offer installment on the cards or lose interest income as most solutions existing today act as sales finance form a handful of smaller banks.
Co-branding blues: Most co-branding cards have already been suffering from low volumes. Now due to COVID, major programs with airlines and hotels will feel the pain more. Banks need to invest in finding ways to keep those customers by migrating them to general reward cards that offer tangible benefits.
Banks will have to integrate card rewards into their mobile apps much more effectively.
Here again, smart solutions like myGini to enhance banking apps will be vital.
What is at stake?
A PSD2 (Payment Systems Directive 2 in European Union and the UK) type of a regulation and/or customer pressures might force Visa and Mastercard to open their networks along with banks' back-office systems with easy to develop APIs to consumer-facing fintech/big-tech to enable cardholders to aggregate all their cards and rewards within better-designed and user-friendly apps, leaving banks with deposit and credit functions only, stripping them off most of the transaction fees.
What can smaller banks and Credit Unions do now?
Allocate resources to develop installments on credit cards and provide rewards on both debit and credit all through their mobile banking apps which would allow them to interact with their customers with each card transaction.