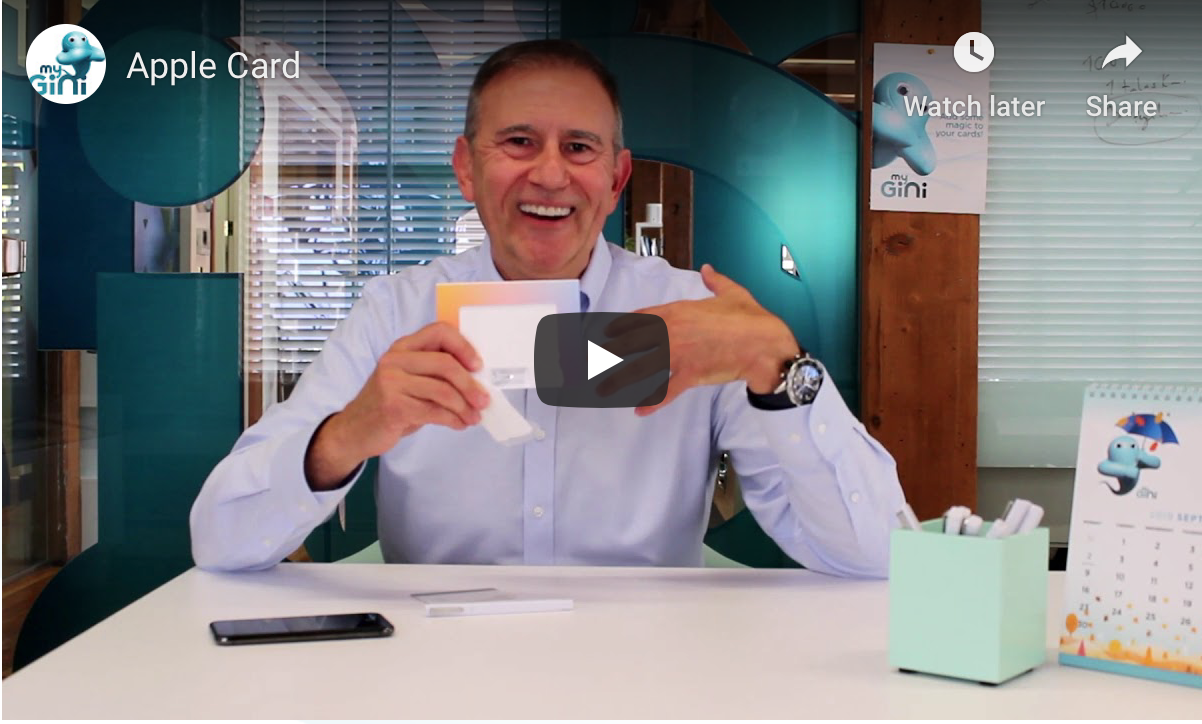 Mobile's hot – plastic's not!
Banks, take note from Apple on customer loyalty
By Mehmet Sezgin, CEO & Founder, myGini
Love it or hate it, the Apple Card is now in the hands of shoppers whose verdicts can change the current U.S. financial ecosystem. As one of the biggest movers and shakers in the consumer technology sector, Apple is seen as a bellwether for consumer trends.
So ditch your contactless cards.
The best thing since Apple Pay?
Apple Pay's dominance over mobile payment providers is undisputable –research shows a third of all U.S. consumers who pay with their smartphones use the app, compared to just one in ten paying with rival technology from Google and Samsung.
I have previously written about why it makes sense for Apple to move deeper into the financial services industry and why banks and credit unions need to keep their eyes on the software giant. The sophisticated user experience of the mobile banking app has certainly raised the bar, but unexpectedly, it is the 'Card' in Apple Card that serves up the biggest reality-check for the industry.
The Apple mind trick: This is not the NFC card you're looking for!
Since my initial dismissal of the titanium credit card as "just an attractive customer gimmick", I have received my own. So was I right? I've recorded a video to show you my first impressions of it:
As you can see in the video, the titanium card is no more than an accessory with no real near-field communication (NFC) capability, which means it isn't a contactless card. The NFC chip is hidden in the paper wrapping and activates when setting up within the mobile wallet app.
What is Apple saying here?Simply put, that payments and banking are best done via mobile – not via contactless cards. And if you trust the company's track record of getting consumer trends right, this has consequences for financial institutions beyond the point-of-sale.
Cards are king – but not if myGini has its way
It might not seem like the payments ecosystem is shifting away from plastic when one considers the sluggish uptake of tap-and-go in the U.S., but the fastest growing economies of the world such as China and India have certainly embraced it. To unlock the potential of mobile payments in the U.S. market, there are barriers to overcome.
U.S. consumers love credit cards, especially when it comes to rewards. To maximize their chances of saving at as many locations as possible, they are filling their wallets with these cards.CB Insights notes that traditionally, these perks have not been easy to transfer to mobile. "Americans love credit card rewards programs and mobile payment services aren't as generous", the Motley Fool summarizes.
It doesn't have to be like this anymore. There is a fresh way to translate the perks of the plastic card to an app – and it's not the Apple Card.
A mobile wallet to rule them all
Shopping, payments and banking are all part of the same customer journey but its fragmentation is posing unnecessary challenges to cardholders. The Apple Card – with its current rewards structure – is not a solution for this. To dazzle rewards-savvy cardholders, mobile banking apps need to keep retailers in the loop. This is where myGini can help.
As loyalty features become essential for mobile banking success, myGini offers a white-label solution that can turn a financial institution's app into cardholders' top shopping companion. The cloud-based, AI-driven app runs on a unique 'Dynamic Loyalty Engine', which gives financial institutions access to a large and diverse pool of rewards without having to personally negotiate partnerships with individual retailers. Cardholders benefit from a uniquely wide range of discounts and promotions within the app which are personalized to their preference, location, previous shopping interest and current shopping intent. It's the loyalty program cards can't beat.
Think outside the boxwith myGini
If financial institutions want to compete with the user experience of the Apple Card, they need better mobile banking apps. But if they want to dominate the evolving financial ecosystem that will be characterized by seamless consumer experiences, then they need to truly think outside the box.
With almost every bit of functionality introduced in the Apple Card already available in myGini, financial institutions can not only get a head start but also expand on their quick-gained competitive advantage. If you would like to learn more about myGini's wide range of customizable features available for banks and credit unions, read the white paper or watch a live demo of the app here.
Get in touch at [email protected]  if you are ready to leapfrog the competition.