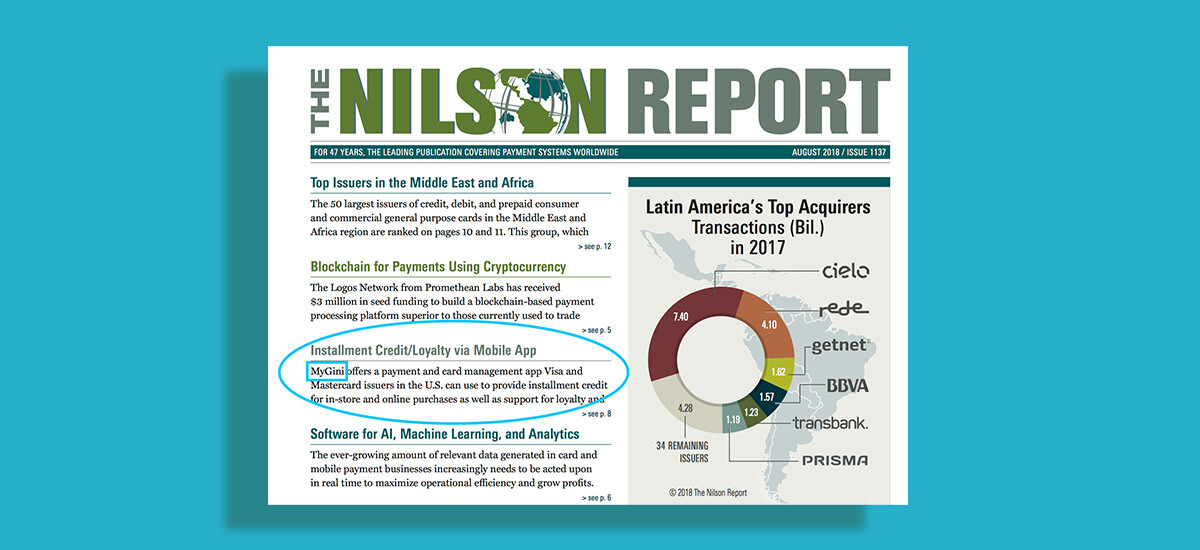 MyGini offers a payment and card management app Visa and Mastercard issuers in the U.S. can use to provide installment credit for in-store and online purchases as well as support for loyalty and offers programs. The cloud-based (Microsoft Azure) platform is provided on a white-label basis. All functions are available to issuers in a stand-alone shopping app or through an SDK they integrate with their existing mobile banking app.
Issuers can customize the parameters of installment credit offers for the type of card product, cardholder history, purchase amount threshold, merchant category, and specific merchant chain. Installments can be financed by the issuer, the retailer, or jointly. No POS terminals are involved. Transactions are initiated by a notification to the cardholder's handset.
For loyalty and offers, the myGini platform activates real-time push notifications after receiving a transaction alert from the Visa or Mastercard network. Offers are instantly sent to cardholders without needing them to sign on, log in, or open an app.
MyGini has agreements with offer aggregators and can target those offers to cardholders informed by data analytics from artificial intelligence that examines merchant codes from prior spending. Cardholders are also given the opportunity to "like" certain brands, which further supports targeted offers.
Background tracking algorithms in the app work in-store using GPS and Wi-Fi signals to enable location-based engagement with cardholders.
Other features on the myGini platform provide controls for credit and debit cards, including freezing accounts when cards are believed to be lost or stolen, sending a new PIN, automatic declines of cross-border payments, and more. The app delivers instant discount coupons, creates cash-back offers, manages loyalty points, triggers rewards at a particular merchant after a predetermined number of purchases, and more. Cardholders can also review card statements and make balance inquiries.