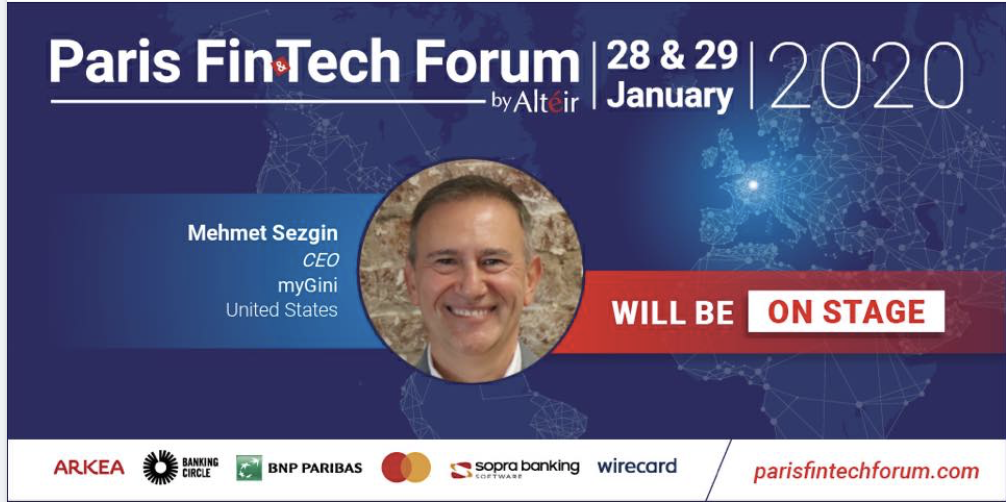 myGini was in Paris Fintech Forum
European Fintechs against American technology power houses
Paris Fintech Forum is the biggest fintech forum in Europe gathering many parties together.
In 2020, it took place in Palais Brongniart at the heart of the city in January 27th to 30th. More than 2500 delegates from 75 countries watched and listened 320 CEOs, 200 fin-techs with 165 companies exhibiting their products.
Mehmet Sezgin, founder and CEO of myGini was one of the fin-techs on stage and you can watch his pitch here:
He also underlines the differences between the European and American conferences a bit jokingly: "well as we all know almost everything is bigger in the US and Europe has more class. Money 20/20 for instance takes place in Las Vegas in a Casino hotel with 20,000 people attending and you are lucky if you get a free coffee. In Paris it was champagne and canapés!"
He says he also liked the diversity of the meeting in terms of ideas and attendees. "What Europe needs of course that its Financial Institutions need to go faster to comply with the PSD2 and open their APIs, and its Fintechs need to be bolder."
Of course being in Europe, there was much emphasis on Second Payment System Directive (PSD2) that the European Commission enforced several years ago. PSD2 asks banks to create and open APIs so that the Fintechs can aggregate data from multiple sources and offer innovative financial services to European consumers.
It was also refreshing to see many Asian and African banks and Fintech providers present at the conference.