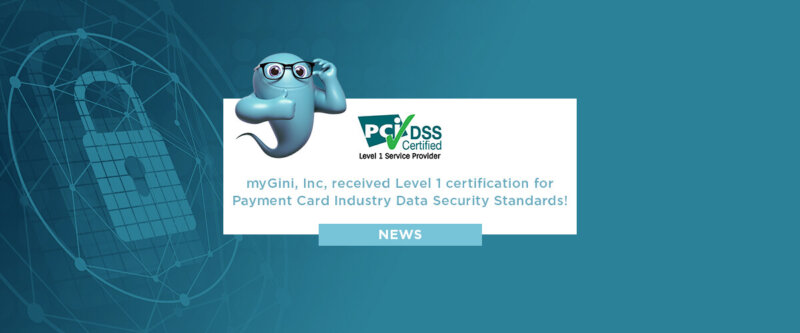 Fintech provider myGini Completes PCI Level 1 Compliance Audit
Receives Attestation of Compliance for PCI DSS Level 1 as part of continued drive for compliance and security excellence for its clients and services
October 23, 2019 –myGini, the San Francisco-based fintech provider, today announced it has received Level 1 certification for Payment Card Industry Data Security Standards (PCI DSS) from its Qualified Security Assessor (QSA) as of October 8th2019. The successful audit ensures myGini customers can rely on a white-label mobile payments and card management solution that is compliant with the highest standards of card-present security.
PCI DSS compliance ensures adherence to the set of policies and procedures developed to protect credit, debit and cash card transactions and prevent the misuse of cardholders' personal information. myGini has achieved the standard, which is required of all card brandsprocessing more than 6 million transactions a year. Its systems are now capable of 1 million compliant and secure transactions a day and can be scaled flexibly and securely through its Microsoft Azure infrastructure.
Mehmet Sezgin, CEO and Founder, myGini said "We are very happy to receive this certificate as it demonstrates that all our systems were audited through more than 1,100 data security criteria. We are not an issuer or acquirer of cards and transactions, but we want to provide our financial institution and retailer customers with the utmost peace of mind in their everyday transactions using the myGini mobile app."
There are six overarching goals for PCI DSS compliance: Build and maintain a secure network, protect cardholder data, maintain a vulnerability management program, implement strong access control measures, regularly monitor and test networks and maintain an information security policy.
Kemal Uyan, CTO, myGini added "The myGini platform is built on a multi-instance environment reaching almost zero downtime in case of disaster or system failure. With this audit completed, customers have validation that myGini's processes and procedures are over and above the latest industry standards."
About myGini
myGini is a cloud-based, AI-driven card management and loyalty platform designed for financial institutions and retailers utilizing network capabilities of Visa and MasterCard to create smarter and enjoyable shopping moments. Founded in 2016, myGini Inc. is headquartered in San Francisco and financed by a group of private investors. For more information about the company, please visit www.mygini.com.
Media contact:
Selda Iriboz
Business Development Head, myGini
Email: [email protected]
Phone: 415 234-4464
Reka Agopcsa
IBA, PR for myGini
Email: [email protected]
Phone: 561 228-1940