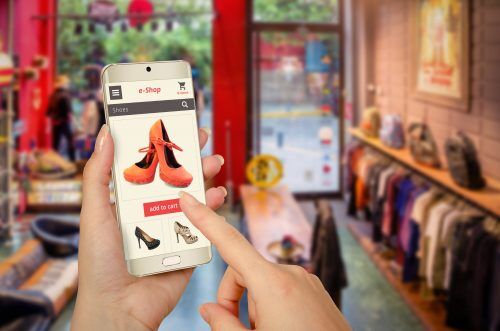 The retail market is currently dealing with some considerable headwinds as it looks to adapt to changing consumer trends and expectations. Leveraging technology to improve the in-store shopping experience is going to be a major part in this and we are already seeing some radical shifts – just think cashierless stores. Smaller and mid-size retailers may not need to change quite so dramatically, but they too will be affected and pressed to make the customer experience more digital.
A good place to start this journey is with a bit of technology we all already carry in our pockets – the smartphone. The right mobile tools will ensure retailers can interact with their customers at the right time and place, offer something the individual shopper wants and can use immediately, and reward them for the purchase.
Mobile payments – convenience for the tap-and-go generation
Although initially slow to catch on, contactless payments in the U.S. are trending upwards and are in part driven by mobile payments. Contactless technology offers a quick, easy and secure way to pay and more and more stores are making the switch to enable them.
Mobile payments make this possible and more. If the card is kept in a mobile wallet or the transaction is facilitated through a mobile pay app, consumers can get instant push-notifications, confirming the transaction took place and reassuring them that the right amount was paid.
Paper coupons need to make way for digital engagement  
So what happens after you've paid? You get a receipt. At certain drugstores, you get a paper receipt that is 1.5 yards long! It's become quite usual for some drugstores in the U.S. to add promotions and coupon codes at the end of sales receipts. But is the customer likely to fold that up and put it away or aim for the first trash can on the way out?
In the age of mobile payments, retailers have to seriously rethink what they want their loyalty programs to do – keep it as an added extra on the side or make it the main driver of customer retention?
Loyalty engines that run on a mobile apps mean retailers have the potential to step away from bland, untargeted blanket offers which are hard to measure, and instead shift to a real-time mindset and capability that can capture the moment and create a more personalized customer experience.
Artificial Intelligence lends a hand
Personalization stems from a deeper understanding of customer preferences – in-app loyalty programs can give retailers a fresh pair of eyes to determine which product or service customers will find most useful and when. It's not crystal ball gazing or guessing – it's AI.
With the help of AI-powered platforms like myGini, retailers can easily take a 'Design It Yourself' approach to loyalty and get a better understanding of their customers' behavior. They can then use these insights to design frequency programs with set time and amount thresholds or initiate a reward points program for new purchases, offer percentage or amount based discounts at different stores and create digital coupons. All tailored to the individual shopper.
Dashboards can track offer performance and user statistics to create a clear connection between promotions, revenue and performance. This enables retailers to have a transparent view of the offers and promotions that drive the most transaction activity.
Embrace the mobile revolution in 2019
Mobile devices now account for more than a third of all US retail e-commerce sales and shows no sign of slowing down. Those who adapt and develop a meaningful mobile strategy will reap the rewards of greater customer engagement, retention and ultimately, revenue.
If you want to find out how your retail business can get ahead by going mobile, follow the link to learn more – click here.